Boysenberry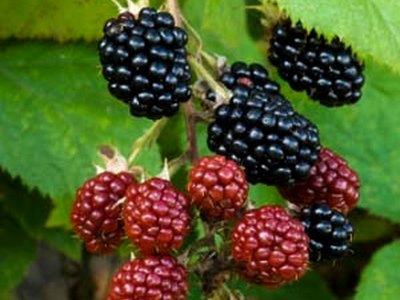 Boysenberry Plants
Boysenberries were originally developed in California. Today, they are grown throughout the west coast of the U.S.
Grow Boysenberries
Boysenberries grow best in a very sunny location with and very little wind. Boysenberries need thoroughly tilled soil, with plenty of compost and mulch, to grow their best. If growing them at home, the Boysenberry vines should be planted about 3 feet, or .9 meters, apart in the lated spring colder climates or the late fall warmer climates. It would be best to install trellises for the vines to grow on so they will be pulled up off the ground, making the boysenberries easier to harvest and less likely to rot.
Boysenberry Uses
Boysenberries are used for making jam, as a pie filling, and are used to add decoration to cheesecakes and tarts. They are also used as part of a fruit salad, scattered fresh on pancakes and waffles, and commonly eaten plain.
Boysenberry Facts
The binomial name of the Boysenberry is Rubus ursinus x idaeus. An interesting fact is the Boysenberry is a cross between a Raspberry, Rubus idaeus, Common Blackberry, Rubus fruticosus, and Loganberry, Rubus x loganobaccus.
Boysenberry Farms
It may be possible to find any boysenberry farms near your location. We have built a map that will show all of the berry farms in our directory!
Photo - Columbia Fruit - Woodland, Washington