California Bayberry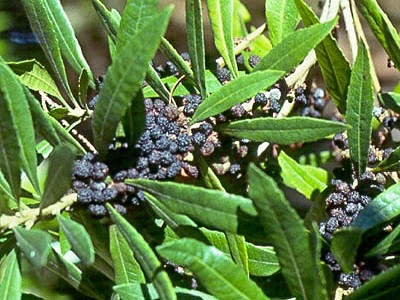 California Bayberry Facts
California Bayberry is another name for Wax Myrtle. The binomial name for Wax Myrtle is Myrica californica, and is one of about 35 species from the genus Myrica, generally known as Bayberry. Some of the other Bayberry species are also known as Wax Myrtle, for example Myrica cerifera is commonly called Wax Myrtle, and Southern Wax Myrtle. Many of the other Bayberry species also have familiar common names such as Candleberry, Sweetgale, and Yumberry.
California Bayberry Farms
It may be possible to find any california bayberry farms near your location. We have built a map that will show all of the berry farms in our directory!
California Bayberry Stories
Fleming: Wonderful fragrances part of southern garden
The soft sweet scent wafting from a shade garden goes well with the woodsy smell of ferns and attracts moths to the plants for pollination. Banana and strawberry shrubs I ... Wax myrtle is another woodland smell of the south. And think of the various ... St. Augustine Record [ story ]
Consumer Qs: What shrubs tolerate shade best?
... Isu tree (Distylium racemosum), Carolina cherrylaurel (Prunus caroliniana), Japanese cleyera (Ternstroemia gymnanthera), butcher's broom (Ruscus aculeatus), inkberry holly (Ilex glabra), yaupon holly (Ilex vomitora), wax myrtle (Myrica cerifera ... jacksonprogress-argus [ story ]
Surround yourself with eco-friendly fence
Tip: (Via King County native plants expert Greg Rabourn.) Plant an attractive, dense "hedgerow" by mixing evergreen plants such as tall Oregon grape and California wax myrtle with deciduous (shedding leaves in the fall) species like red elderberry and ... The Seattle Times [ story ]
Photo - California Native Garden Foundation - San Jose, California