Cloudberry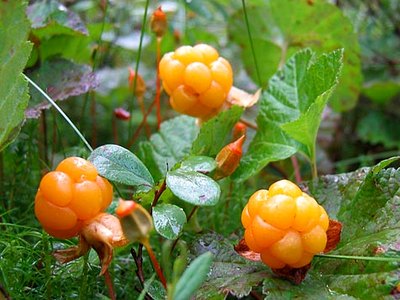 Cloudberry Plants
Cloudberries can grow in many different climates. They can grow in swampy areas, in plains, by the sea, and even in the arctic on mountains! Cloudberry plants grow mainly in mountainous areas.
Grow Cloudberries
Cloudberry plants grow hardy in the cooler zone 2, but needs full sun. Cloudberry plants prefer growing in well drained, moist acid soil. A native to the Northern Hemisphere you can find the fruit baring Cloudberry plant.
Cloudberry Uses
Cloudberries are very high in vitamin C and are often made into jams and juices. Cloudberry fruit is a golden-yellow when ripe. The fruit is tart, so is often combined with sugar and cream for delicious condiments and deserts of cloudberries.
Cloudberry Facts
The binomial name for Cloudberry is Rubus chamaemorus. Cloudberry is usually called Bakeapple in Canada and Knotberry or Knoutberry in England, and Averin or Evron in Scotland. Fruit production by a female cloudberry plant requires pollination from a male cloudberry plant. The cloudberry plant can withstand cold temperatures well below -40C.
Cloudberry Farms
It may be possible to find any cloudberry farms near your location. We have built a map that will show all of the berry farms in our directory!
Photo - Lapland Food - Lohtaja, Finland