Garden Huckleberry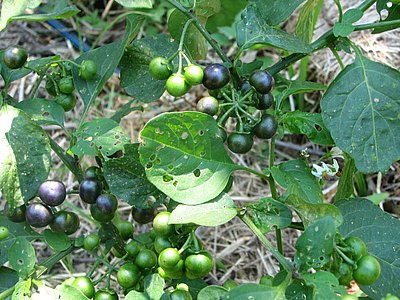 Garden Huckleberry Plants
Garden huckleberry plants grow upright to about 2 feet tall. Garden huckleberry plants have tiny white flowers that look like very small tomato flowers. Garden huckleberries start out green in color, and ripen to a purplish-black.
Grow Garden Huckleberry
Garden huckleberry grows like a weed, which it basically is. As a culitvated plant garden huckleberry is generally grown from seeds.
Garden Huckleberry Uses
The garden huckleberry plant contains toxic glycoalkaloids so the berries can cause gastrointestinal irritation if eaten raw. Garden huckleberries have been used for jams and pies after the berries are cooked and drained.
Garden Huckleberry Facts
Garden huckleberry plants are not related to Huckleberries or Blueberries. Garden Huckleberry is actually related to balladonna, a member of the nightshade family, Solanaceae. Garden Huckleberry is now considered to be a variation of Solanum nigrum, common Black Nightshade.
Garden Huckleberry Farms
It may be possible to find any garden huckleberry farms near your location. We have built a map that will show all of the berry farms in our directory!
Photo - The Long Island Seed Project - Flanders Bay Farm, Long Island, New York