Hollyleaf Buckthorn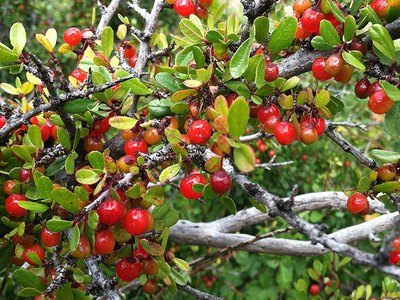 Hollyleaf Buckthorn Facts
Hollyleaf Buckthorn is another name for Redberry Buckthorn. The binomial name for Redberry Buckthorn is Rhamnus crocea. Some of the more widespread Rhamnus species of Buckthorn include Rhamnus cathartica, or Common Buckthorn, Rhamnus crocea, or Redberry Buckthorn, Rhamnus californica, or California Buckthorn, Rhamnus caroliniana, or Carolina Buckthorn, and Rhamnus saxatilis, or Avignon Buckthorn. Buckthorns are known by many other common names, including Avignon Berry, Cascara Berry, Coffeeberry, and Indian Cherry, to name a few.
Hollyleaf Buckthorn Farms
It may be possible to find any hollyleaf buckthorn farms near your location. We have built a map that will show all of the berry farms in our directory!
Photo - BonTerra Consulting - Pasadena, California