Juniper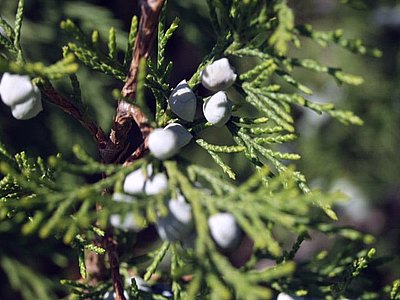 Juniper Plants
Juniper plants are trees and come in many varieties. Juniper berries are actually cones but very fleshy and have merged scales that make them look a lot like berries. All Juniper trees produce juniper berries, but some species have berries that are too bitter to eat. Juniper berries are green when young, and ripen to a purple-black color.
Grow Juniper
Juniper grows well from cuttings from new growth, or from seeds. Juniper seeds will usually grow better if planted in late spring. Juniper grows wild in both hot and cold locations.
Juniper Uses
Juniper berries from some species, especially Juniperus communis, are used as a spice. Juniper berries are used in Scandinavia to flavor wild bird and game meat. Juniper berries are used to season pork, cabbage, and sauerkraut dishes. The North American juniper species Juniperus californica is even sweeter than Juniperus communis and used as food by indigenous peoples.
Juniper Facts
Juniper berries are used to give gin its flavor. Juniper berries have been found in ancient Egyptian tombs. Ancient Greek writings mention juniper berries used as a medicine. Some species of Juniper, such as Juniperus sabina, are toxic and should not be eaten.
Juniper Farms
It may be possible to find any juniper farms near your location. We have built a map that will show all of the berry farms in our directory!
Photo - The Tree Farm - Longmont, Colorado