Mountain Bilberry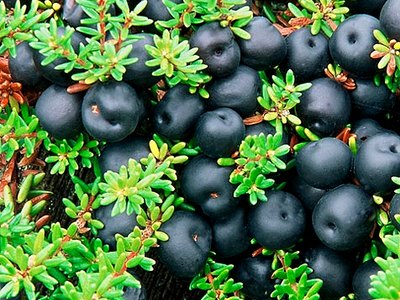 Mountain Bilberry Plants
The mountain bilberry plant is an erect, deciduous shrub approximately 3 feet tall with 1 inch leaves. Mountain bilberry plants bloom creamy-pink, bell-shaped flowers on the underside of twigs. The berries are deep purple, or black in color and are usually around the size of large blueberries.
Grow Mountain Bilberries
Mountain bilberry plants can grow in soil ranging from moist to dry conditions. When planting mountain bilberries, the soil should be kept fairly moist. Very acidic, sandy, or gravelly soils are best for growing mountain bilberry plants.
Mountain Bilberry Uses
Mountain Bilberries can be eaten fresh, baked in pancakes, pies, and muffins. They can also be canned, frozen, and made into jams and jellies. The Nez Perce used Mountain Bilberries for a lavender and purple natural dye. Mountain Bilberries are an important food source for many animals, including different types of birds, foxes, deer, and bears.
Mountain Bilberry Facts
Mountain Bilberry, Vaccinium membranaceum, is one of several Bilberry species. Also known as Big Huckleberry, Black Mountain Huckleberry, Mountain Huckleberry, Square Twig Blueberry, Tall Huckleberry, Thinleaf Huckleberry, and Twin Leaved Huckleberry. Other species of Bilberry include Vaccinium uliginosum, or Bog Bilberry, Vaccinium deliciosum, or Cascade Bilberry, Vaccinium caespitosum, or Dwarf Bilberry, Vaccinium membranaceum, and Vaccinium ovalifolium, or Oval Leaved Bilberry.
Mountain Bilberry Farms
It may be possible to find any mountain bilberry farms near your location. We have built a map that will show all of the berry farms in our directory!
Photo - Lapland Food - Lohtaja, Finland