Round Leaf Buffaloberry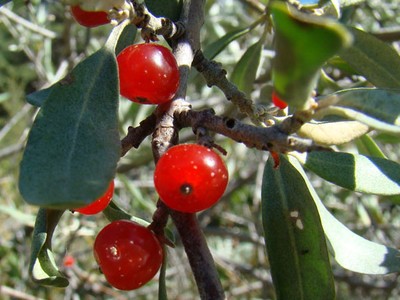 Round Leaf Buffaloberry Facts
Round Leaf Buffaloberry is one of three species in the genus Shepherdia, Shepherdia argentea or Silver Buffaloberry, Shepherdia canadensis or Canada Buffaloberry, and Shepherdia rotundifolia or Round Leaf Buffaloberry. Buffaloberry is known by several other common names, including Bullberry, Chaparral Berry, Rabbitberry, Silverleaf, Soapberry, and Soopolallie. Buffaloberries are fairly easy to recognize, they are dark red round berries with small white spots on them.
Round Leaf Buffaloberry Farms
It may be possible to find any round leaf buffaloberry farms near your location. We have built a map that will show all of the berry farms in our directory!
Photo - Bear Smart Durango - Durango, Colorado