Winterberry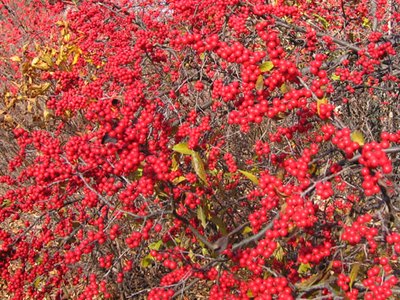 Winterberry Plants
Winterberry plants enjoy great popularity. Winterberry plants are usually found throughout the eastern United States. Winterberry plants grow to heights of 5 to 15 feet tall.
Grow Winterberry
Winterberry grows from stem cuttings. Winterberry grows from seed. Winterberry flowers begin to emerge in small clusters three years after planting. Winterberry grows into an erect moderate sized shrub. Mulching fall seedings for winter protection will help your winterberry grow.
Winterberry Uses
Winterberry enjoys use as a landscape shrub because of the bright red berries. Moose, deer, rabbits, and the snowshoe hare use winterberry as food. Nearly 50 species of birds eat winterberries. Winterberries are poisonous to humans.
Winterberry Facts
Winterberry is a species of Holly. the binomial name for Winterberry is Ilex verticillata. Also known as Winterberry Holly.
Winterberry Farms
It may be possible to find any winterberry farms near your location. We have built a map that will show all of the berry farms in our directory!
Winterberry Stories
Winterberry adds wildlife to the garden
In the depths of winter, we look out over the bare trees and long for the colors of spring. But there are some bright spots to be had in your winter landscape. One of those is the Winterberry, or Ilex verticillata. This native, deciduous, multi-stemmed ... Times-Georgian [ story ]
Carling launches winter berry variant
Carling Zest with a Hint of Winter Berries. Carling Zest with a Hint of Citrus became a permanent addition to its core range and a limited-edition Carling Zest with a Hint of Ginger was launched. The new variant has been released to the off-trade for ... Offlicence News [ story ]
London Fashion Week 2013: capital's most stylish brighten up the gloom outside ...
While summery sports luxe and cool pastels dominated on the catwalk, the streets outside saw winter's berry hues and punky tartans take centre stage. Fashion Writer Andrea Magrath wears Miss Selfridge shoes, River Island skirt, Topshop sweater and. Daily Mail [ story ]
Photo - Burnt Meadow Nursery - Brownfield, Maine