Youngberry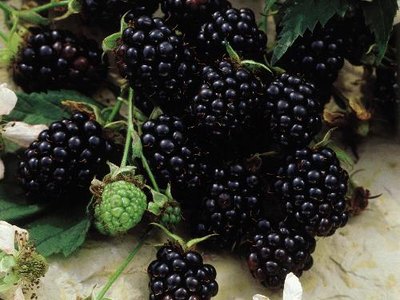 Youngberry Plants
Youngberry plants are hybrids between three different berries of the rose family. They are made of raspberries, blackberries, and dewberries. Youngberries aren't grown much in the U.S., but are grown in Australia, New Zealand and South Africa.
Grow Youngberries
Before planting, put plenty of organic matter or compost into the soil. Youngberries grow best with a lot of fertilizer, and moister. To keep the moister in, apply mulch in the spring. They also like full to partial sun. Youngberry plants grow best when planted against a fence or wall, or supported with trellis.
Youngberry Uses
Youngberries are used to make teas, for baked goods, and desserts. They are yummy to use as toppings for pancakes, and to put them in pies. When store bought, use them within a short period. You can also freeze youngberries, so you can keep them for uses in the winter. The leaves and roots of the youngberry plants have certain antioxidants which are said to help prevent cancers. The berries can also help strengthen your immune system and help with digestion.
Youngberry Facts
The binomial, or scientific name of the Youngberry is Rubus caesius. Youngberry is a hybrid between three different species from the genus Rubus, the Raspberry, Blackberry, and Dewberry.
Youngberry Farms
It may be possible to find any youngberry farms near your location. We have built a map that will show all of the berry farms in our directory!
Youngberry Stories
1001 Arabian Bites: the speedy delights of the berry-go-round
Like mutts in the dog kingdom, hybrids are what make the berry go round: gooseberries and blackcurrants combine to make jostaberries, and I've had some crossbred post-blackberry berries, such as olallieberries, youngberries and the delicious ... The National [ story ]
Tourism business set to blossom
Now she hopes to build Wisbey's brand, generate income outside the volatile stone fruit sector, network with the district's other food producers and first rate chefs and shore up sales of fruit outside the cut-throat supermarkets sector. Peach blossoms ... The Canberra Times [ story ]
Land deals first inkling of the future
The plantings were a disaster and many of the vines had to be replanted. The pioneers It was not until eager young berry fruit grower Henk Ruesink and Mr Marris developed their own vineyards in 1976 that Montana saw the benefits of under-vine watering. Stuff.co.nz [ story ]
Photo - Chris Bowers & Sons - Wimbotsham, Norfolk, United Kingdom