About Berrywerks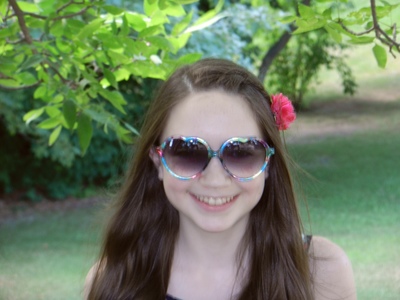 Hi, I'm Anna and this is my website! I decided to make a website about berries, because I love them. I absolutely love berries, from the deliciously juicy ones, to the amazingly sweet, to the sour and tart berries. My personal favorite are strawberries. I just love how they're so sweet, juicy, and so rich in color!
I've learned a lot about different kinds of berries while researching them. For example, the boysenberry is a cross between a blackberry, raspberry, and loganberry. I didn't know that before working on berrywerks.
Then I learned that my great-grandparents had met Mr. Walter Knott, the man who cultivated boysenberries after the inventor abandoned trying to grow them. My great-grandparents had visited Knotts Berry Farm, met Mr. and Mrs. Knott early one Saturday morning, and were invited to eat breakfast with them.
Both families exchanged cards and letters every year for Christmas after that. My great-grandparents also received an assortment of jams as presents from the Knotts, and of course, one of them was always boysenberry!
photo -- Mom
My Sincere Thanks
Berrywerks has already had many visitors from all over the United States, but that's not all. I would like to thank the visitors from Finland, Poland, Russia, Moldova, Lithuania, Thailand, Germany, Canada, South Africa, India, Ukraine, Seychelles, Great Britain, Czech Republic, Singapore, and New Zealand, for their visits. It's exciting to know that all these people from different countries love berries too!
While looking for pictures to use, I was happy to find there were so many independent growers. I would like to thank the many growers, nurseries, photographers, bloggers, organizations, and others from California, Colorado, Florida, Maine, Maryland, Massachusetts, Michigan, Minnesota, Mississippi, Missouri, Montana, New Hampshire, New Mexico, New York, Oregon, Pennsylvania, Washington, and Wisconsin.
I would also like to thank the wonderful folks from Alberta and Nova Scotia in Canada, and from Australia, Finland, Greenland, India, New Zealand, Norway, Serbia, Sweden, The Netherlands, Virgin Islands, and Great Britain for letting me use your beautiful pictures! Everyone has been so wonderfully kind for taking the time to help me with my project.
My Berrywerks College Plan
Even though I am just starting 8th grade this fall, I am already saving money for college. Since Berrywerks is already delivering over 4000 pages a month (thanks everybody!) to interested readers, I thought it would be a good idea to provide links to other information and websites berrywerks readers might be interested in.
So, with Mom's help, I discovered there are several websites that have affiliate and advertising programs that would allow us to link to them for the possibility of earning money. This also helps me provide books and other content for our readers.
Berrywerks is now a participant in the Amazon Services LLC Associates Program, an affiliate advertising program designed to provide a means for websites to earn advertising fees by advertising and linking to amazon.com
I even found out that PayPal has a donate button, so friends and family members parties could contribute if they wanted to, in place of birthday presents and Christmas presents.