Bilberry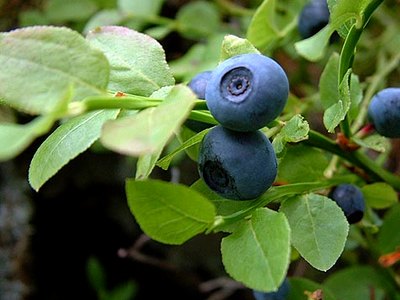 Bilberry Plants
Bilberries originally came from Northern Europe, and thrive well in that climate. Bilberry is closely related to the Blueberry, Huckleberry, and Cranberry.
Grow Bilberries
Bilberries grow best when planted in an acidic soil enviroment. Bilberries do best in full sun, and tolerate slight shade. Bilberries usually grow to be about 16 inches tall.
Bilberry Uses
Bilberries are used to make pies and jams. They are also used to make medicines, treat diarrhea, and to improve eyesight. Also, bilberry leaves have been used to control blood sugar levels in people with diabetes.
Bilberry Facts
Bilberry is any of several species in the genus Vaccinium, especially Vaccinium myrtillus. Vaccinium myrtillus is known by many other common names including Black Hearts, Blaeberry, Fraughan, Myrtle Blueberry, Whinberry, Whortleberry, Wimberry, Winberry, and Windberry. Other species of Bilberry include Vaccinium uliginosum, or Bog Bilberry, Vaccinium caespitosum, or Dwarf Bilberry, Vaccinium deliciosum, or Cascade Bilberry, Vaccinium membranaceum, or Mountain Bilberry, and Vaccinium ovalifolium, or Oval Leaved Bilberry. Sometimes Vaccinium myrtillus is also called Black Huckleberry, but this is not to be confused with Gaylussacia baccata, more generally known as Black Huckleberry.
Bilberry Farms
It may be possible to find any bilberry farms near your location. We have built a map that will show all of the berry farms in our directory!
Photo - Lapland Food - Lohtaja, Finland