Blackberry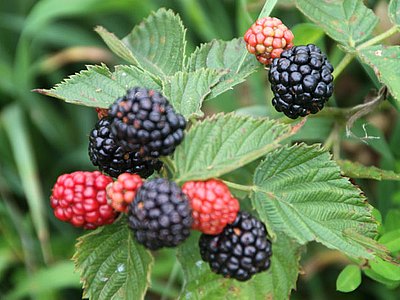 Blackberry Plants
Blackberry plants are perennial, which is a plant that lives for more than two years. Blackberry plants tolerate poor soils and grow readily in ditches and vacant lots. First and second year blackberry shoots usually have many sharp prickles. Newer blackberry plants are being developed without any thorns or prickles.
Grow Blackberry
Blackberries grow in full sun and require at least 6 hours of direct sunlight every day. Blackberry grows well on a trellis 5 ft high to make it easier to harvest the berries. Blackberry may grow better when fertilized, but fertilize them in either the late winter or early spring while the blackberry plant is dormant. After harvesting it is a good idea to cut the plants down to the ground to keep away diseases and pests. In some places blackberry plants are considered invasive weeds.
Blackberry Uses
Blackberry leaves are food for certain caterpillars. Deer are also very fond of blackberry leaves. Common blackberry uses include desserts, jams, jelly, and pies. Blackberries are also used to make wine.
Blackberry Facts
Blackberry is one of several species in the genus Rubus, including Rubus argutus, or Sawtooth Blackberry, Rubus fruticosus, or Common Blackberry, Rubus ulmifolius, or Thornless Blackberry, and Rubus ursinus, or Trailing Blackberry. There are many varieties and cultivars of Blackberry. Rubus ursinus 'Aughinbaugh' was a parent of the Loganberry. Rubus ursinus is also an ancestor of Boysenberry, and Marionberry. In some parts of the United States, wild blackberries are sometimes called Black Caps, a name usually associated with Black Raspberries.
Blackberry Farms
It may be possible to find any blackberry farms near your location. We have built a map that will show all of the berry farms in our directory!
Photo - GreenGrowers Nursery - Buchanan, Tennessee