Strawberry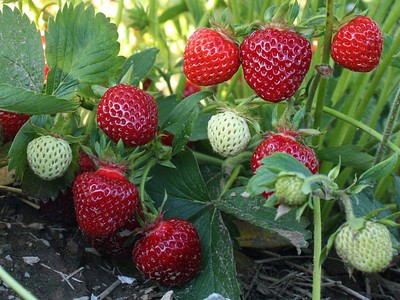 Strawberry Plants
Strawberries originally came from North and South America.
Grow Strawberries
Strawberries grow best in hot humid regions, but they can thrive successfully almost anywhere. When planting strawberries, you aren't supposed to fertilize, unless you have really sandy soil.
Strawberry Uses
Strawberries are used for deserts, for example, Strawberry Shortcake. They are also used in Milk shakes, smoothies, fruit salad, and strawberry cheesecake. Strawberries are commonly used to make jam, jelly, and yogurt.
Strawberry Facts
The binomial name for the strawberry is Fragaria Ananassa. An interesting fact is the strawberry was technically named after the pineapple, for the both look somewhat alike. They took Ananas, from Ananas Comosus (pineapple), and used that in part of the binomial name for the strawberry, Fragaria Ananassa.
Strawberry Farms
It may be possible to find any strawberry farms near your location. We have built a map that will show all of the berry farms in our directory!
Photo - Applecrest Farm Orchards - Hampton Falls, New Hampshire