Serviceberry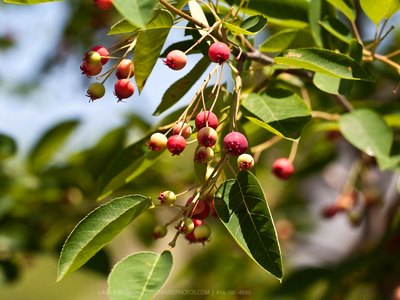 Serviceberry Plants
There are more than twenty species of serviceberries in North America, commonly known by many different names. Serviceberry plants can grow from ten to twenty feet tall, and around 5 feet wide. Serviceberry plant leaves turn a brilliant red in the fall. Serviceberry plants have smooth and round berries.
Grow Serviceberry
Serviceberry is especially fond of rocky soils. Serviceberry likes to grow in full, hot sun and in a location with good drainage. Serviceberry is usually grown hardiness zones 3 to 8. In the first two years water your serviceberry plant when the top inch of soil is dry. After that just water occasionally during long dry spells.
Serviceberry Uses
Native Americans dried Serviceberries into loaves for later use in soups and stews. Serviceberry juice was used as a dye. Serviceberries are used today in jams and jellies. Serviceberry can be used to make wine. Serviceberry flowers are grouped in fragrant, showy white clusters so it is commonly used as an ornamental plant.
Serviceberry Facts
Serviceberries are a good source of iron and copper. Serviceberries start out red and ripen to dark purple. Serviceberry have a small, tender seed.
Serviceberry Farms
It may be possible to find any serviceberry farms near your location. We have built a map that will show all of the berry farms in our directory!
Photo - Kollar Nursery - Pylesville, Maryland